Plus500UK LTD is authorised and regulated by the Financial Conduct Authority. Starting to trade with Plus500 is quite efficient. This broker provides the best starter's package for CFD traders – Plus500 25 EUR Account. When registering with Plus500 and verifying your phone via an SMS, you will be instantly granted Plus500 25 EUR Account or similar amount in another currency.

Size of Bonus: €25     Trading Platform: Plus500 Trader
Expiration: 90 Days      Min. Volume: 60 TP*
Leverage: 1:200               Required Action: SMS Verification
This deal is over. But you can still – Sign up with Plus500
Plus500 25 EUR Account Description
As Plus500 provides you with a webtrading platform, there is no need to download any software to place your orders. You can start trading with 25 EUR straight away.
To withdraw the 25 EUR you will need to complete 60 TPoints. Unlike most of MT4 brokers that require you to complete the volume in lots, Plus500 sets the target in Trader Points, which is generally a combination of the spread and the popularity of an asset. Trading a contract of 1000 EUR size on EUR/USD (or one micro lot – 0.01) would provide you with 0.1 TPoints, while the same contract on EUR/PLN would give you 1.5 TPoints.
As the bonus is given for a period of 90 days, you roughly have to get 1 TPoing per a day of trading. This shouldn't be a hard task for you. Focus on achieving the best trading result. Once you generated larger capital, achieving Trade Points will be easy.
What is best about this deal is that profit is withdrawable anytime. You can get a profit of 100 EUR while completing 10 TPoints and still take out 100 EUR.
Start trading with Plus500
For more information on CFD services, please visit wikipedia page. Trading CFDs is high risk and your losses may increase your deposit. Take your best chances to trade on Plus500 25 EUR Account or Plus500 Demo Account before you deposit.
Free Forex Trading
This article will teach you how to start free Forex trading just in 4 really simple steps. You will not need to make any payment or download any software. In 10 minutes you will get rid of a fear of starting trading and will be able to come on a path to your personal financial freedom. IT does not require any financial investments from you, so there is no reason to be afraid.
Leave your fears behind free currency trading
A lot of people think of traders as very brainy, educated and sharp men who wear a perfect suit every day. Probably, that is movies' false stereotype. In most cases it has nothing to do with real traders.
Real traders are hardworking people who trade, make mistakes, learn from those mistakes, try again and succeed. They strongly believe in what they are doing. Certainly, you can become such trader. Keep reading this article and you will find out how it is better to start trading on Forex market.
Choose a correct Market
Your primary mission is to choose the right market. Ideally it is the one you are most familiar with. Still cannot determine? Don't worry! If you are hardworking and want to learn, the success will come to you – today or tomorrow, especially if you have such a good possibility to trade Forex without deposit.
The wide range of trading tools will help you to implement your knowledge in Forex trading. They are Stocks, Metals, Currencies, and even Crypto Currencies, also Oil and Gas. Hardly you knew that CFDs on Orange Juice are also available! If you have some understanding of the economic situation in your country, you can use Indices. It is the time to earn money. Be ready to start trading Forex for free!
Eliminate Risk with Free Forex Trading
Investment just like any business activity, involves some level of risk. High profits mean higher risks. Unfortunately, low risk can't make you fabulously rich. Just like entrepreneurs do, before starting any activity remember to consider the risks.
By the way, every business plan has a section about risk assessment. Explore possible risks before you begin any business. It will save you a lot of money and will keep you from many mistakes in live trading. We can offer you a unique proposal that will let you trade at lower expenses.
HOW TO Trade Forex for Free?
Prior to involving yourself into the real trading we recommend you to use a chance that offers our partner – Plus500 broker. This broker offers a pre funded account to explore financial markets. To get this opportunity you should follow six simple steps:
Step 1: Go to Plus500 website via this link. There you will see "Start Trading" button:

Step 2: Select "Real Money" to begin registration process:

Step 3: Leave your email and password to your account, confirm your password and you will have a registration process completed.
Step 4: Get extra 25 EUR for verifying your phone number. That is easy, isn't it?

Step 5: Complete account registration form.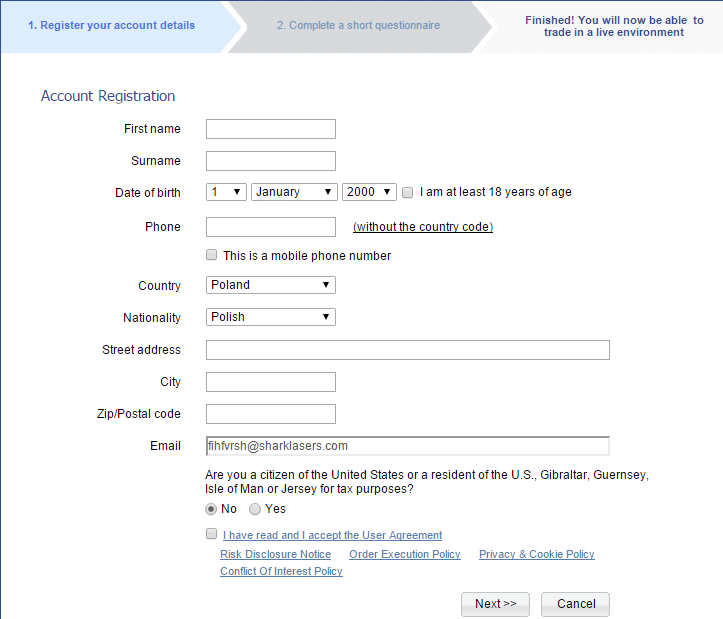 Step 6: Type the confirmation code that has just come to your phone and complete the registration.
Now: Hurray! You have just received €25 to your real balance! Start trading directly from your browser.
 Unfortunately, Plus500 does not offer this bonus anymore.
Check Plus500 Web Trading Platform
If you prefer any other broker for free trading purposes, check our No Deposit Bonus section to find the perfect deal for yourself!